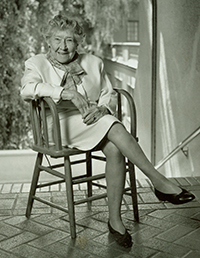 The Doreen B. Townsend Center for the Humanities, founded in 1987, was named in recognition of the many gifts made to the UC Berkeley campus by Calvin and Doreen Townsend.
Calvin Townsend graduated with a degree in forestry in 1923. His success in business management led to a partnership in 1942 in Jennings Radio Manufacturing Corporation, a firm producing vacuum-electronic components out of Jo Jennings's family chicken farm in San Jose. Townsend and Jennings sold the company to ITT in 1961. Mr. Townsend died in 1975.
Doreen Barnwell Townsend graduated from the College of Commerce (now the Haas School of Business) in 1924. Mrs. Townsend was active in civic affairs, including service as a member of the state board of the California League of Women Voters, and as a founder of the Family Service Association and the Visiting Nurse Association in San Jose. In 1988, Mrs. Townsend bequeathed a major interest in her estate to the Center.
"Doreen Townsend had two wonderful characteristics as a benefactor: she loved meeting and talking to the faculty members and students whose lives she had benefited, and she was prepared to discover that they and the Center were doing some unusual and, on occasion, incomprehensible things," said Paul Alpers, director of the Center, in 1991. Mrs. Townsend died in 1991.